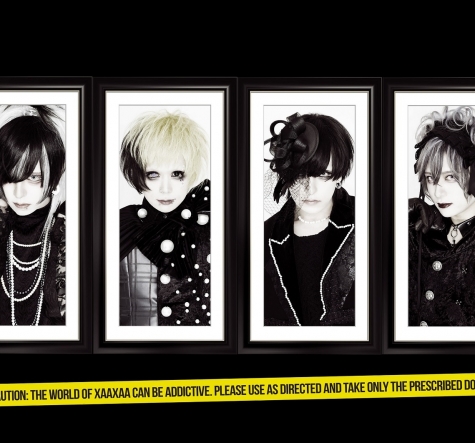 XaaXaa
Based in Osaka, XaaXaa became active nationwide as a band on December 3, 2014. With poisonous music and a unique concept, the band has been steadily increasing their mobilization while continuing their distinctive activities as a band. From 2017, they relocated to Tokyo to further increase their activity. Intertwining Kazuki's bleak lyrics with catchy melodies, every piece of music they release is conceptual. The music is always created in the studio in an analog style and all song credits are in the band's name. As for the member's personal histories, the vocalist and bassist are real life brothers. It all started when the elder brother, bassist Reiya, invited his younger brother, Kazuki, to join as a vocalist when he couldn't find enough band members. Guitarist Haruga is a former manager of an udon restaurant but resigned to form XaaXaa. Drummer An is also active on YouTube as a binge eater.
In April of 2021, they held a one-man show at their biggest capacity venue yet, KT Zepp YOKOHAMA. In 2022, as an act of repayment for their hometown origin of Osaka, they held a free one-man concert at Osaka BIG CAT. It was there that they announced a one-man show at Namba hatch, the biggest capacity venue of its type in Osaka. The show they went on to perform in October of that same year at Namba hatch was a huge success.
XaaXaa's work has been featured in various media. They were featured on NIPPON TV's "Ariyoshi Hanseikai". They also collaborated with "Hanamaru Udon" for an on-air project which led to their appearance on "Buzz Rhythm 02" Roulette LIVE. They were studio guests on "Premium MelodiX!". The band was introduced on TV Asahi's "BREAK OUT" for four weeks in the monthly corner "FREAK SCENE".
Previous Collaborations:
In December 2020, "Reitou Ningen" was featured as the ending theme song for "Jikkuri Kii Tarou~ Star Kinkyou (Hi) Houkoku~".
In May 2021, "Gogatsubyo" was the ending theme song for TV Asahi's nationwide broadcast "BREAK OUT".
In December 2021, "Aza" was the ending theme song for TV Tokyo's "Premier MelodiX!".
In June 2022, "Kakurenbocchi" was the ending theme song for NIPPON TV's "Buzz Rhythm 02".
In November 2022, "Tsukiyomi" was featured as the ending theme song for TV Tokyo's "Chouonpa".