Katsucon Cosplay Meet-up Coordination
Frequently Asked Questions
Q. WHAT IS MEET-UP COORDINATION?
A. Meet-Up Coordination was established to help coordinate large group photos in the Gaylord's most popular areas and prove performance space for dance groups. By reserving with Katsucon, you are guaranteed the space and time slot for your group with the Meet-Up Team's presence to maintain order and assist you if needed.
Q. WHAT LOCATIONS ARE THE MEET-UP IN?
A. For 2023, our Meet-Up locations are Balcony Right, the Gazebo, the Fountain, Outside (Atrium Level Garden), and Cherry Blossom Ballroom (which is for Dance Lounge only). Below is a map of our locations.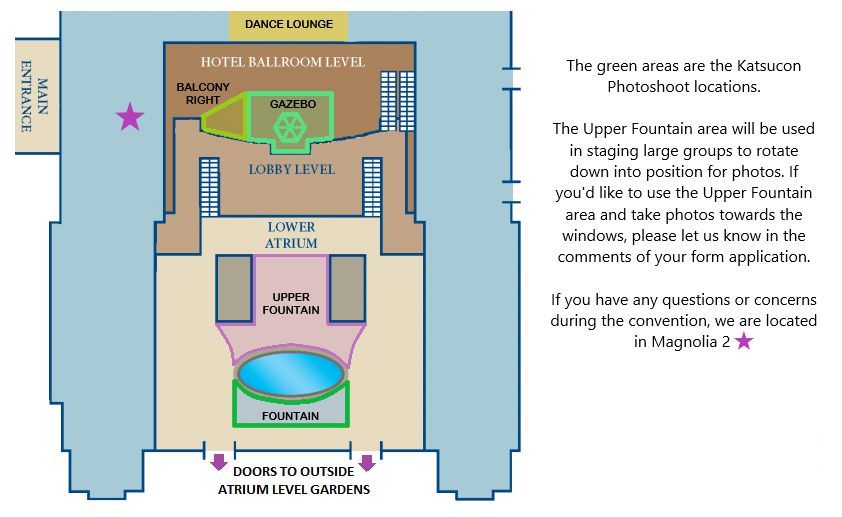 Q. IS THERE A GROUP SIZE RESTRICTION FOR EACH COSPLAY MEET-UP LOCATION?
A. For 2023, each location does have participant limit: Outside (Atrium Level Garden) = no limit; Fountain = more than 50; Gazebo = 30-50; and Balcony Right = 10-30. These numbers are approximate based on your expectations. If your group is significantly smaller, we may cut your time slot short.
Q. WHAT DAYS AND TIMES CAN I REQUEST A MEET-UP?
A. Meet-Ups for Katsucon 2023, will occur Friday and Saturday from 11am to 8pm, and Sunday from 11am to 3pm. Dance Lounge will be open Friday, Saturday and Sunday.
Q. HOW LONG ARE THE TIME SLOTS?
A. For 2023, Cosplay time slots will be 30-minutes. Remember that your time slot includes 5 minutes for finishing/clearing at the end. If you are applying for 80+ participant group and think you may need longer, please email us after submitting your application and we will review for an hour time slot. Hour slots will only be available for the Fountain and Outside. Dance Lounge time slots are subject to your request.
Q. WHEN DO COSPLAY MEET-UP APPLICATIONS CLOSE?
A. Cosplay Meet-up Applications for 2023 will close December 10, 2022 at 11:59pm EST. Applications may close earlier if all slots have been filled.
Q. HOW DO I APPLY FOR MY COSPLAY MEET-UP?
A. Keep an eye on social media for the updated link to Meet-up Applications. Our Meet-up page will be updated once applications are open.
Q. CAN I APPLY FOR MORE THAN ONE COSPLAY MEET-UP?
A. Yes, you can! However, please know that if you do apply for multiple fandom Meet-Ups only ONE will be approved. When applying, please indicate which Meet-Up you would like prioritized in the Comments section of the application.
If you are a part of an organizer group, please ensure that a different member of your group is the primary contact on your applications to each fandom Meet-Up you are applying for.
Q. WILL THERE BE MORE THAN ONE COSPLAY MEET-UP PER FANDOM?
A. Due to an influx of requests, we generally only schedule one Meet-Up per fandom. If additional times become available, we may contact you.
Q. I WOULD LIKE TO TAKE A FEW PHOTOS IN FRONT OF THE GAZEBO AND ONLY EXPECT TO TAKE A FEW MINUTES. WILL I BE ALLOWED?
A. We will host an open period for the Gazebo on Friday and Saturday from 1pm-2pm and 5pm-6pm. We will have a line up for small groups or individuals to snap a few photos. The line will start about 15 minutes prior to the open period and will be listed on the Katsucon schedule.
Q. MY COSPLAY MEET-UP APPLICATION WAS APPROVED. AS THE ORGANIZER, IS THERE ANYTHING I NEED TO PREPARE?
A. The main request we make is for everyone to show up organized with their shot list and group ready to go. This is especially important with the larger groups and we recommend preparing a timed shot list. We may request a copy of your shot list so we may assist you if you have a large group.
Q. MY COSPLAY MEET-UP APPLICATION WAS NOT APPROVED. WHY?
A. We know it's a bummer but your application could have been rejected for any of the following reasons:
• The requested fandom has already been added by another organizer
• The time slot requested is not available
• The location requested is not available
• An organizer has already been approved for one Meet-Up
An email will be sent to applicants with the reason for rejection. Just because we were unable to accommodate you does not mean your meet-up cannot happen; only that it cannot take place in Katsucon Meet-Up designated locations.
Q. I AM A PART OF AN IDOL GROUP AND WE WOULD LIKE TO PERFORM. IS THIS ALLOWED?
A. Yes! We have opened a performance space (Dance Lounge) in the Cherry Blossom Ballroom for idol groups to perform.
Q. HOW DO I APPLY FOR THE DANCE LOUNGE?
A. Keep an eye on social media for updates related to Dance Group Lounge Applications. Our Dance Lounge page will be updated once applications are open.
Q. WILL THERE BE A GROUP SIZE RESTRICTION FOR DANCE LOUNGE?
A. For 2023, there is no restriction to the size of the preforming groups.
Q. MY APPLICATION FOR THE DANCE LOUNGE WAS APPROVED. IS THERE ANYTHING I NEED TO PREPARE?
A. A speaker system will be available for your use. Please bring anything else you might need for your event, such as: additional speakers (if needed), microphones (if needed), an mp3/phone/computer/flash drive for your music, an aux cord, and any additional cables to power and connect your devices. Do not forget to bring water if you are performing or attending an event where you may be dancing!
Q. CAN I FILM OR TAKE PICTURES IN THE DANCE LOUNGE?
A. There is a "No Recording or Photography" rule for people attending the event to protect performers from being recorded or photographed without their permission. For those performing, Dance Lounge staff will coordinate with you to have a trusted member of your group record or take pictures safely. Dance Lounge Staff should be notified prior to the performance of who and where that person will be.
Q. I DON'T HAVE A MEET-UP OFFICIALLY SCHEDULED WITH KATSUCON. CAN I STILL TAKE MY GROUP PICTURES IN THE MEET-UP LOCATIONS?
A. During Meet-Up hours, our locations will be reserved for those with approved applications. You are more than welcome to use the Gazebo and the Fountain before and after our scheduled hours each day. There are also plenty of other picturesque areas with the Gaylord to choose from!
Q. I HAVE A QUESTION REGARDING MEET-UPS. WHO DO I CONTACT?
A. Please contact us at [email protected] and one of us will get back to you as soon as we can.
Q. WHERE CAN THE MEET-UP COORDINATION TEAM BE FOUND DURING THE CONVENTION?
A. If you have any issues or concerns during the convention (or just want to see our faces!), our office is located in Magnolia 2 which is located on the hotel-side of the Gazebo level. The Dance Lounge staff will also be in the Cherry Blossom Ballroom during their active hours.