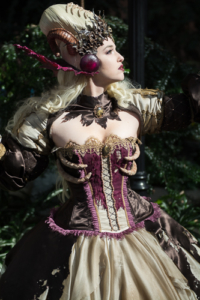 Thanks for you patience in the waiting for the Masquerade and Fashion Show Content rules and registration. We're sorry for delay as we've been trying to clean up the presentation of our information with the addition of the Fashion Show.
Since the Fashion Show is a fairly new addition to Katsucon, with the first show happening last year, here are the major differences between the two contests.
For the Fashion Show, the contest is for the presentation of your costume on stage, and how it looks as you strike several poses. There is no need to worry about a soundtrack as one is provided for you, and there is no craftsmanship judging or costume requirements beyond adhering to the general costume decency and prop rules of the convention which can be found here. There are no restrictions to genre or source material so have fun!
For the Masquerade, you provide your own soundtrack and may, and indeed are encouraged, to perform skits using your pre-recorded soundtrack, though walk-ons are also encouraged. This contest has optional craftsmanship judging and awards for those that want the handiwork of their cosplay judged for their appropriate skill level.
Full rules for the Fashion Show can be found here.
Full rules to the Masquerade can be found here.
Frequently Asked Questions:
Q: What is the Schedule this year?
A: Both the Fashion Show and Masquerade Participants are expected to check in at the Cosplay Desk in front of main events from 2pm – 8pm on Friday. If you can make it you MUST be at the Rehearsal for the event with a printout of your pre-registration acceptance email.
Fashion Show Rehearsal is at 5:30pm Friday.
Fashion Show immediately follows the Rehearsal starting at 6:30pm.
Masquerade Rehearsal is from 8:30am-11:30am on Saturday AND IS REQUIRED FOR PARTICIPATION! This is important, because we need to make sure your sound is working, and you are prepared for the contest itself.
Masquerade Craftsmanship Judging is from 11:30am-1:30 pm (later at our judges discretion).
Masquerade Greenroom pre-Masquerade prep is at 2:30pm, and runs until the Masquerade goes live at 3:00pm. Please arrive promptly so we can get you organized and ready for the Masquerade.
Q: What about Hall Costume?
A: Hall Costume is a separate event group, and have their email at [email protected]
Q: Can I wear this cosplay, fan created design, etc.?
A: Yes, absolutely, we allow all cosplay that adhere to the general Katsucon rules. If you're going to be judged for Craftsmanship for the Masquerade please bring a reference image for your design, as due to the broadness of this the craftsmanship judges may not be familiar with the source material for your cosplay.
Q: Will there be at Con signups?
A: Yes, we will have a limited number of at con signups available for both contests. So please preregister if possible.
Q: How do I preregister for one of the contests?
A: Please Send an email in the following format to [email protected]
Subject Line:
Masquerade Signup: (Cosplayer Name or Group Name) OR
Fashion Show Signup: (Cosplayer Name or Group Name)
Content:
Cosplayer Name or Group Name: (info)
Main Contact Email: (where we contact your group, and send your confirmation)
Number of Awards Won: (Largest Number if in a group, helps determine skill level)
For Masquerade Only
Number of Participants: (just the count, we don't need everyone's names, and are more than happy to work with last minute changes to group size.)
Skit or Walk on: (indicate if a Skit or Walkon)
Skit Description: (if a skit, give a brief description of the skit)
If you have any additional questions please email [email protected]