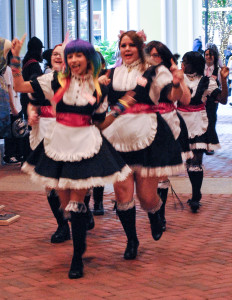 The Cherry Tea Maid Cafe is one of Katsucon's otherworld experience to transport you into the setting of an authentic Japanese maid cafe. Our Maids and Butlers graciously await to serve you at the cafe when you arrive. There are several different personalities amongst our maids and butlers, all wanting to serve you with 'kawaii' and 'moe' that will lead you feel like you are in Japan.
For 45 minutes, our Maids and Butlers will serve you from our new menu of delicious offerings, and will play a game with you. We will also have different souvenirs for purchase with all proceeds going to charity. We hope to give you a pleasant experience that will have you squeal from all the cuteness surrounding you.
The Cherry Tea Maid Cafe began in 2008 and has since been one of the "must see" events at Katsucon. The location of the cafe is TBD and reservations will follow shortly after. We can't wait to see all our Masters and Mademoiselles there!
We are currently accepting applications for new Maids and Butlers. If you are interested in volunteering for the Cherry Tree Maid Cafe, please fill out the audition form using the link below. (To be a member of the Katsucon Maid Cafe staff you must be 18 by the Wednesday of Katsucon 21 February 11th 2015.)
Audition Link – Click Here
Application forms are due by Wednesday August 6th at 11pm.
Video Audition submissions are due by August 12th at 11pm.
We will be holding in-person auditions on Thursday, August 7, 2014 from 5-7 pm in Laurel, MD. Those who will attend the audition will be sent an email with the exact address of the audition site.
You can also submit a video audition with a mock cafe skit along with a description of your experiences and why you want to be a part of the Cherry Tree Maid Cafe. Please email a youtube link of your video submission to maidcafe@katsucon.org.