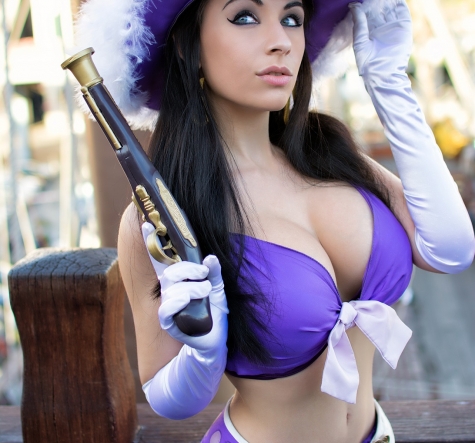 Giada Robin is an Italian cosplayer, model, actress and you tuber.
Giada started cosplaying at "Lucca Comics & Games 2008", where she won the official "One Piece Italian Cosplay Contest" with her Nico Robin. Rewarded by Takashi Yoshiike from TOEI ANIMATION she continued her adventure in the magic world of cosplay under the name of "Giada Robin" to remember her first great experience. She has been invited as guest, judge and panelist in several conventions around the world. She worked with gaming companies including G2A, MSI, Riot Games, Blizzard and Sony.
She has made a huge variety of cosplay characters from Anime/Manga/Comics/Movies/Videogames showing her brand of talent and creativity. Some of her representations are very popular like of course Nico Robin from One Piece, but also her sexy Vaporeon and female DIO Brando from JoJo's Bizarre Adventure.
Playing the characters is what she loves more and she's well known for her bubbly personality in her funny cosplay videos on You Tube. Her skills have also being noticed by Italian television and cinema industry, she got the chance to play some movie roles and she's presenter of a TV Show called "Crossover – Universo Nerd".
We can't deny that over the years (10 years of cosplaying now), Giada has build a successful business with a large and enthusiastic fanbase. With more than 1 Million fans on her social medias, Giada is considered one of the most popular cosplayers in the world and one sweet inspiration for many people in the cosplay community.