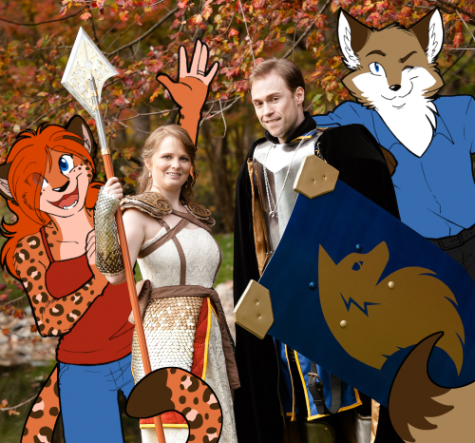 Jacks of all trades and masters of some, Fox Keegan and Mandy Seley are the dynamic duo behind the slice-of-life webcomic 'Curtailed'! Their cartoon counterparts became a perfect outlet to combine antics, energy and passions and share their most entertaining and relatable tales with the world! With passions ranging from art, gaming and cosplay to engineering, DIY and survival prep, they blend these talents with zany results: Not everyone makes medieval armor, gets married in it, and then rides off in their own police-edition muscle car!
If you visited Merchant's Hall last year and were lucky enough to see the only Zootopia cosplay complete with a genuine police cruiser, you've already seen the Curtailed Cop Car!
When Fox unexpectedly got a new cop car straight from the factory, one of his new interests became 'car cosplay'! (Carsplay?) Attendees enjoyed getting fake arrest photos to panic family and friends!
While not originally planned, the #CurtailedCopCar might make it back to Merchant's Hall this year! (look along the back wall!)
Mandy is the artist and web developer. The more grounded of the two, she enjoys dabbling in game development, spoiling hamsters, and desktop publishing: the first Curtailed book collection debuted at Katsucon 2018!
Fox's interests are legion. He has two modes: "Charging" and "Over-Caffeinated Ferret". While he lends his wit and wordsmithing as the writer of Curtailed, it's typically his charisma and the indomitable zeal with which he dedicates himself to projects that makes him the catalyst for both the plot and punchline! (Only put himself in Katsucon Medical once so far!)
Host of last year's record-breaking Charity auction, he's looking forward to this year's bidding wars!
This marks Curtailed's fourth year of bringing smiles to attendees of Katsucon!