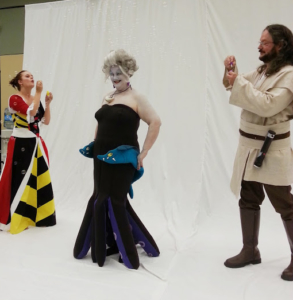 Photosuite is a photography suite dedicated to preserving the memory of the hard work Katsucon's attendees put into their cosplays each year. Our professional photographers are also knowledgable nerds who will help cosplayers pose just like their characters.
Prices range from $15 for digital low resolution photos to $90 for a whole high resolution digital album. Photos are taken for free and we may use these photos on the web or in next year's program.
Your cosplay is awesome and you should be remembered for it!
Photosuite's hours
Friday, 12pm-9pm
Saturday, 10am-9pm
Sunday, 10am-3pm
FAQs
1. Can multiple people be included in one shoot?
Definitely! We have slightly small backdrops this year, so we have to place a limit on the number of people that we can fit into a single shot. Usually it's 5-6 people with small or no props, max. Unless you're cosplaying sardines….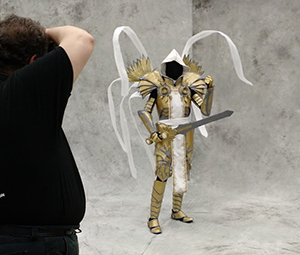 2. Are costume changes allowed during a shoot?
Not *exactly* but that's not a no, either. Let me explain.
We don't have any private space for cosplayers to change costumes in Artist's Alley. There are also some restrictions on indecent exposure, too. If your costume switch involves putting on a different pair of shoes or a cape or something super quick that doesn't make you naked in the middle of Artist's Alley, go for it!
The way that Photosuite runs means that you can get your photos taken in one cosplay, go back to your room to change, and then come back to Photosuite in a different cosplay to get more photos taken! You can do this a bunch of times over the course of the weekend and then buy all your pictures at once on Sunday. (Make sure you're all finished before we close at 3pm!)
3. How many photos are in a shoot?
This depends on a lot of factors. Number of poses the cosplayer has in mind, number of props, how well the photographer knows the source of the cosplay, etc etc. We're super laid back! Generally, for the meeker cosplayers, we end up with 5-15 good shots, for larger more social groups we can sometimes see 20-50 great photos.
4. Are the photos in the shoot on the USB included in the package?
We have a really elaborate pricing plan if you decide to purchase any of the photos that we've taken. Checkitout:
PRICE LIST
Packages
Serious Cosplay Package!
Whole Shoot high res + Katsucon USB Stick $90
Parent & Grandparent Preferred Package
Whole shoot low res + Katsucon USB Stick $40
Low on Cash? Try this one!
Single low res photo (1000px) + Katsucon USB Stick $15
A La Carte
Single high res image +USB $20
Single high res image $10 each
Single low res image + USB $10
Single low res image $5 each
Single high res image $10 each
Single USB Stick $10
(Click here for a printable price list.)
In order to purchase photos, you need to buy a cool Katsu USB stick (it's a security measure and we don't have a web-based option available yet this year. Next year though!)
The best deals for photos are the Low Res Entire Shoot and the High Res Entire Shoot, because with these packages you're not paying for individual photos, you're just getting everything we've photographed of your cosplay on a single USB.