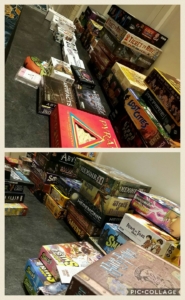 If you've got an hour to kill between this year's events, drop by Tabletop! Our department is here to provide you with space, tables, and even the games themselves.
Interested in playing Dungeons and Dragons? Our staff will be available every day to run games for the new, curious, and uninitiated.
Looking to join a One-Shot campaign? Our GM's have several prepared and announced as the weekend goes by. Join us for some Pen and Paper Mario or a Medieval Investigator Procedural.
Looking to run your own game? We'll have tables available for anyone who would like to reserve.
Earn free passes for the next Katsucon at our Magic: The Gathering tournaments on Friday and Saturday, at 11 and 3. Tournament will be held in Commander/EDH rules.
Or would you like to find out more about board games in general? We'll be Demo-ing games starting at 6pm on Friday until the end of the con.
---
Tabletop Gaming Schedule