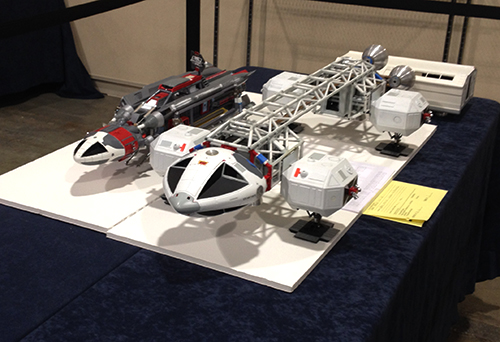 Our mission: Encourage the hobby and create the ultimate showcase for modelling excellence!
All Model Submissions are highly encouraged to Pre Register there entries, at door will not be guaranteed entry.
Exclusions: Winning models from past Katsucon model contests may not be re-entered. Katsucon staff, contest core personnel, judges and sponsors are prohibited from entering contest but may display their work if they desire.
Proxies: Model must be built & painted by modeller entering contest. Entries by proxy are allowed but must be declared to Contest Officials in advance (violators will be disqualified).
Size and Number of Entries: Entries may not exceed our size limitation of 36L" x 20″W x 24″H. Entries are limited to five (5) per attendee. Any entry that approaches the size 20"x20"x20" in size must register early due to limited display space
"Mature" Subjects: Due to the family nature of the Katsucon experience, it is show policy that models depicting nudity and those containing violent or "adult" subject matter will not be accepted for entry. Figures are subject to review for content by the Contest Coordinator.
Entry of models: Modellers must neatly print all information on Entry Form (please ask questions if you do not understand). Modeller is allowed to place their own model on contest table, but MUST be accompanied by contest usher, who will give you a claim check. Modeller MUST immediately exit contest area after placement of entry.
Removal of models: Once entered, models cannot be removed from contest early. Early removal automatically disqualifies entrant. After the awards presentation, proper claim check must be shown to usher who will accompany you to remove model (no exceptions.) Models will be available for pickup starting Sunday morning.
Disputes: All Judges' decisions are final.
Liability: Katsucon assumes no liability or responsibility in case of accidents involving models or for property lost, stolen or damaged. Entries unclaimed after 6 p.m. on Sunday will be turned over to Exhibits department / Katsucon`s Lost & Found desk. Please keep constant status on your entries and report any issues.