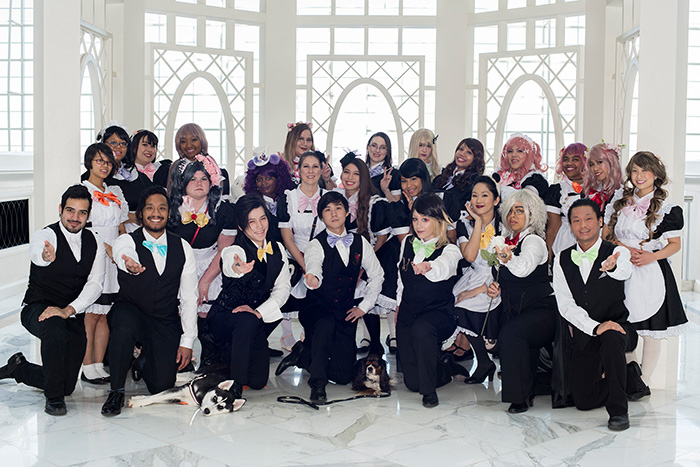 Come visit the Pienza on Friday or Saturday to enjoy Japanese cuisine and hospitality from our delightful Maids and charming Butlers, in a unique family friendly dining environment! Cherry Tea Maid Café offers a variety of games, live performances, and exclusive attractions, all while being specially attended to by your Maid or Butler. Look forward to special prizes and bundles, and capture the memory of your visit with personalized photos. All proceeds go directly to Relay for Life! Reserve your seats early because spaces fill up fast!
One of our most popular attractions, Maid for a Minute, is returning again this year!
This opportunity allows our beloved customers to experience being a Maid, in full uniform, and to take photographs with your maid or butler.
Reservations are currently: OPEN!!
Please use this link to make your reservations
Walk ins are welcomed at any time. Please note, we may combine parties upon seating, therefore cash payments is HIGHLY RECOMMENDED.
Our mission is to bring our guests fun, laughter, and more goodness!
Hours of Operations: Friday & Saturday
Morning: 11 AM – 3 PM
Evening: 4 PM – 8PM
Seatings are every hour; last seating for the morning at 2pm and for the evening 7pm
Guest Rules
To attend the Maid Café you must have a Katsucon2018 badge.
A guest cannot ask for the phone number, email, Facebook, etc. of the Maid Café staff or touch the Maid Café staff.
No loitering outside the café or stalking the Maid Café staff or staying within the café longer than your reservation slot.
All photos are a $1 per Maid Café staff, no video footage within the café or photos of the Maid Café staff on the exterior of the café.
Do not bring outside food or drink into the café.
Menu
Menu to be posted soon
Appetizers and desserts range from $5 – $7 and entrees range from $11 – $20
Please notify your Maid Café staff of any allergens prior to ordering.
We seat Hibachi Style (combining small groups). Cash is the preferred method of payment.
Payment & Donations
Payment for all food and drinks is executed by the Gaylord's Pienza. Gratuity for your meal is included in price.
Each table has the option to split payment into up to a max of 2 credit cards max and the remainder in cash.(smaller groups maybe combined with larger groups so cash is highly recommended)
Donations for all other services (games, pictures, prizes) are CASH ONLY and can be placed in a jugs in the café.
Bills for meals are preferred as one per table, if they need to be split please let you Maid Café staff member know ahead of time. This will help get you your bill in a timely manner.
Reservation Guidelines
Reservations are to be made online by the Sunday before the convention.
Included should be a Name, Phone number, Number of guests, and any accommodations or requests (Ex: We have a wheelchair, I have a service animal, Could we have a seat by a window, Etc.)
Reservations are to have a minimum $5 non-refundable donation.
Reservations that do not arrive with the full party within 15 minutes of the reservation will not be fulfilled, unless prior notification or contact has been made.
If you missed your reservation, it does not transfer over to the next seating, nor place you near the front of the walk-ins.
You make reservation at https://www.eventbrite.com/e/katsucon-2018-cherry-tea-maid-cafe-reservations-tickets-42529536990
Table Availability
Walk-ins

Tables are given to people with reservations first. Groups smaller than three may be asked to pair with another group to use the most amount of seats per sitting.
After 15 minutes into the reservation window walk-ins may be accepted by amount of remaining Maid Café Staff members.
Walk-ins will be seated in groups of five. In cases that there are no more groups to equal five, either by lack of persons or only even amounts, lesser groups are permitted.
Walk-ins are taken by the initial group (the person or people) then a request down the line for the remainder needed to make five. (Example, a group of three is in the front either the next available set of two or two sets of one are matched a d sent in.)
Walk-ins are under than reservations on priority, if no Maid Café staff members are available, walk-ins will unfortunately not be seated that hour.

Groups Larger than five

Technically groups cannot be larger than five, if we have the room and you have double reserved (have two reservations for one group) there may be a way to accommodate.
In this case, will be seated in a more vacant area with tables nearest to each other. If no two tables are near each other we will kindly have to split your group up.
For every five people or table there will be a Maid Café Staff member, this is to ensure each person has a chance to interact and have fun

Accessibility

If you have issues with accessibility, please let the person in charge of the line know, you will be granted priority seating for your reservation. We will have several tables that can have the chairs removed to make them accessible.
If you are a walk-in you and one additional guest may wait near the front while you wait for your turn (when either the rest of your party is near the front or a person you were directly behind, in cases where there are just you and/or one friend.)
Any questions can be sent to: [email protected]