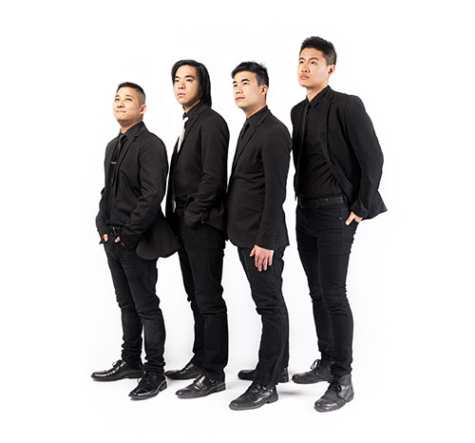 THE SLANTS
Musical Guests
Portland's The Slants are the first and only all-Asian American dance rock band in the world. They offer up catchy dance beats, strong hooks, and a bombastic live show that is "not to be missed" (The Westword). The Willamette Week says "While the band may well be best experienced live, Slants releases always promise a few blistering, note-perfect singles." The music is the perfect combination of 80's driven synth pop with hard-hitting indie, floor-filling beats which fans affectionately dub as "Chinatown Dance Rock."
They've been featured with Conan O'Brien's Team Coco, The Daily Show with Trevor Noah, Rolling Stone, Pitchfork, SPIN, BBC, NPR, and over 3,000 radio stations, tv shows, magazines, and websites across 200+ countries.
The band might be best known for their fight for free speech, which brought them before the Supreme Court of the United States.
22 international tours, including appearances in 46 of 50 U.S states, have led to headlining showcases at major festivals such as SXSW, MusicfestNW, San Diego Comic-Con, and Dragon Con. The band has also provided support for The Decemberists, Mindless Self Indulgence, Girl Talk, Apl.De.Ap (of Black Eyed Peas), Blindpilot and Shonen Knife. In 2011, The Slants worked with the Department of Defense for a series of shows at U.S and NATO bases in Eastern Europe, dubbed "Operation Gratitude."
Almost every one of their last 11 music videos have gone viral, gaining tens of thousands of views within days. Two videos feature martial arts choreography by Sammo Hung (The Matrix, Ip Man, & Enter the Dragon) and feature international stars Daniel Wu and Shu Qi.
They've won "Album of the Year" and "Editor's Choice" from dozens of magazines, including Willamette Week, LA Weekly, Shojo Beat, Village Voice, City Beat, and Rockwired.
Whether rocking music halls, anime conventions, maximum-security prisons, colleges, or army bases, it's clear that The Slants' infectious brand of "so damn good" music will leave you wanting more" (MRU Magazine).