For any questions, please contact [email protected]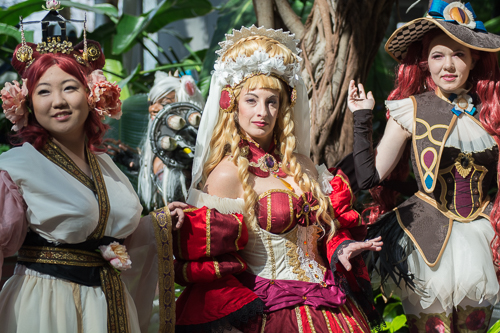 Registration Rules
1. For the convenience of both the staff and attendees, Katsucon will be accepting Pre-Registration for the Masquerade online. Send your submission in an e-mail to [email protected] In the subject line, Put 'Katsucon 21 Masquerade Registration.' In the body, put the following information:
•Name of your group (if you don't have a formal group name, then skip this step)
•The REAL NAME(S) of the member(s) of your group, including an E-mail address for the lead point of contact in your group, plus an alternate.
•Walk on or Skit
•Your skill level (this is defined further down in Rule 10)
•Craftsmanship judging: Yes or No
•Name of your skit (If any)
•A brief synopsis of your skit. No need to get fancy, it can be as simple as 'Kill la Kill meets Sailor Moon, hilarity ensues.'
•Detailed instructions for our tech crew (Lighting cues, music cues, Etc.)
If performing a skit we ask that 2 Months before Katsucon (November 13th) they submit a rough draft of their skit, this doesn't need to be the finalized script, but needs to have a bit more in depth than the synopsis to screen it for inappropriate content.
All attendees and staff of Katsucon 21 are welcome to perform in the Masquerade, the only exceptions being Masquerade and Tech crew staff.
2. Online registration will be limited to the first 20 confirmed entries. Confirmed means they have been contacted by the Masquerade Staff and have replied to this contact and given a reference number. Once 20 entries have been reached, we will post here that Masquerade signup is full. On-site at the convention there will be an additional Ten (10) slots open, with preference being given to young Cosplayers. Any unused pre-registration slots will be transferred to the At-Con signups. If you pre-reg and then find that your group can't make it for whatever reason, please inform the coordinator as soon as possible.
3. We will have a Friday night Check-In from 7 to 9PM at the convention information booth on the Prince George Exhibition level. This is where you will let us know you are here, Sign up for your rehearsal time slot, the coordinator will pass on any last minute changes, we will take at-con signups, and we will be available for any further questions you may have. Check in is not mandatory, but it's highly recommended.
4. There will be a mandatory Rehearsal for the Masquerade Saturday morning in the Main Programming room. We are going to go with Time slots for your rehearsal this year so that everyone doesn't have to be sitting around waiting on their skit to come up. Once again, time slot sign up will be at the Convention Information booth on Friday night. All Cosplayers are responsible for their own punctuality. Any groups that do not sign up for a slot will be expected to show up first thing in the morning on Saturday. If you wish to show up before your time slot to get set up, that is fine, but don't be late. At rehearsal, you will be working out any problems with tech crew, and we will be previewing all skits.
*There are no exceptions. All skits must be performed in full and will be reviewed by the Masquerade coordinators. You will also be given ample time to work out any details with the Tech Crew that you need.*
5. You are expected to arrive at the posted time (Remember kids: Check your programming guide!) for when to be at the rehearsal. *Failure to attend the Rehearsal or arriving late can result in the disqualification from the Masquerade of you and/or your group. If you cannot make the Rehearsal you must inform the Head of Masquerade before Saturday morning.*
6. When signing up for Craftsmanship judging time slots at the Cosplay Check In or Rehearsal, Groups of 3 or more people will need to sign up for 2 time slots to allow for adequate judging time. Groups of 8 or more will need to sign up for 3 time slots.
7. Have your music/Audio burned to a CD or have it on a memory stick for us when you check in on Friday night. Make sure you have previewed your sound BEFORE bringing your home made CDs to the convention. Check it on multiple players, not just the computer you burned it on. If you have it on memory stick, make sure it?s not in some funky format (there is nothing wrong with MP3). Be sure to bring multiple copies of your CDs. Tech Crew is not responsible for balancing your sound once you give them your audio, they simply load it in and press play at the proper time. CDs and memory sticks will be returned at rehearsal.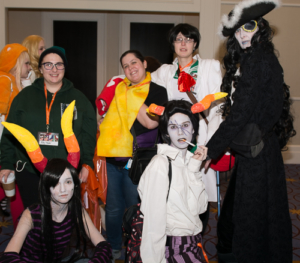 Performance Rules
1. Time limits for each group are as follows:
Walk-ons = 30 seconds
1-2 people = up to 90 seconds
3-5 people = up to 3 minutes
6+ people = up to 4 minutes
We will be strictly enforcing this. If any question you have begins with, 'Our skit is a little longer than the time limit, can we?' The answer is no. We apologize, but we only have so much time for the whole masquerade, and a lot of people want to get on stage and it?s not fair to cut into other people?s performance time.
Important note: Your skit starts when the action starts, but if you have a huge backdrop and/or a complicated setup, you aren't going to have forever to get it assembled.
2. Please remember that children will be present in the audience. Please keep your presentation content to the equivalent of a "PG-13"-rated film. No explicit sexual references, gestures, or swearing will be allowed. Any presentation that violates this rule will be disqualified and may be asked to leave the stage during the performance of the presentation. Usage of any foul or abusive language is grounds for instant disqualification and removal from the Masquerade area.
3. While we all do enjoy a good martial arts sequence, the stage at the Gaylord conference center is very hard. Yes, it will accommodate your backflips and high jumps, but it will also have zero give should you fall. Also, remember, there will probably be fragile equipment on the stage, and if you break it, we're sending you the bill.
4. The stage dimensions are 20' deep by 40' wide. That should give you plenty of room for whatever shenanigans you wish to perform.
5. We know that there are some risque costumes out there. If you are comfortable with your body, then we are too. Just remember: A) there are kids in the audience and B) anything that gets displayed/flashed on stage will be preserved for eternity and posted on the internet. Keep that in mind when designing your battle bikini or when deciding whether to wear underwear under your Hakama or not. If your costume is determined to be too skimpy, or inappropriate for children, you will be asked to cover the offending portion before participating in the contest. Failure to do so will result in disqualification and possible ejection from the convention.
6. Do not leave debris, props, scenery, or costumes on stage that cannot be quickly cleaned by your group in fewer than 15 seconds.
7. Please try to target your presentation to a wide audience. Your presentation may not do well if it is full of inside jokes or references that the audience will not understand. This doesn't mean it can't be artistic or dramatic, but your meanings and intentions may be lost if not communicated effectively.
8. Do not poke the Masquerade staffers or other contestants with Pocky, spoons, your weapon, automobiles, needles, wet noodles, badgers, or anything else. It's just rude.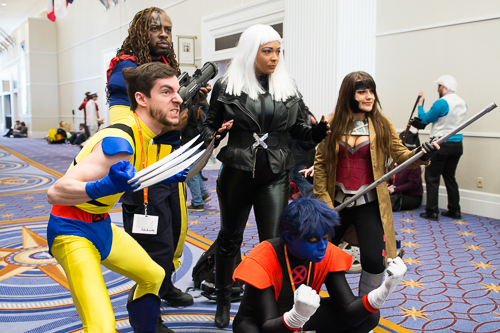 Costume and Division Rules
1. We will be using our interpretation of the World Costuming Guild's rules in our categorizations. Below are the descriptions to find which group you fall into:
Youth : Any entrant aged 13 years and younger. For safety reasons, children under the age of 8 cannot be allowed on the stage during the Cosplay for any reason, unless accompanied by a parent or legal guardian.
Novice : Any costumer(s) who has won 2 or fewer awards. *This is the category you select if you have never cosplayed before, or have not won any contests.
Professional costumers cannot enter the Novice Division.
If you have previously won an award at the Journeyman or Master level, you cannot enter the Novice Division.
If you have won any award at a major regional competition, you cannot enter in the Novice Division.
If you have won more than 2 awards at prior Masquerades or other regional conventions you cannot enter in the Novice Division.
Journeyman : Any costumer(s) who has won 3 – 8 awards.
Professional costumers cannot enter the Journeyman Division.
If you have previously won an award at the Master level, you cannot enter the Journeyman Division.
If you have won a Best-in-Show major regional competition, you cannot enter in the Journeyman Division.
 If you have won any award in the Open or Master Division at any other major convention, you cannot enter in the Journeyman Division.
Master : Any costumer(s) who has won 9 or more awards.
If you have a group, determine who had the highest skill level and use that when registering.
*Example 1:* You have a group of 4 Novices and 1 Journeyman. You will be entered as Journeyman level.
*Example 2:* You have 3 Masters and one Novice in your group. You will be entered as Master level.
2. Entrants are always welcome to compete at a higher level should they wish. If you have won before at a higher skill level than your award total gives you credit for (I.E. You have a Novice skill level, but you have won as a Master) then we at Katsucon highly recommend that you compete at the higher skill level, as you have already proven that you can hang with the best of them. Awards will be given for the best Craftsmanship and Performance in each Skill level, and Best in Show. Judges may wish to add their own special awards for outstanding entrants. As such, only entries that participate in both Craftsmanship and Presentation Judging will qualify for 'Best In Show' consideration.
3. We will be accepting costumes from all genres except for personal Original Designs (References must be publicly known or commercially distributed. Fan Art references will be on a case-by-case basis). Genres may include Anime, Cartoons, Video Games, Movies, Art books and Artwork, Comics and Graphic Novels. This is not limited to Asian origin or Asian influenced genres, so Ubisoft, Disney, Valve, DC, Marvel, Warner Bros., Star Wars, My Little Pony, Doctor Who, etc, will be allowed. Cross-overs and mixed genres are also permissible.
4. Reference pictures are required for craftsmanship judging – please bring at least one printed or digital picture with you to your judging session (the accuracy of your costume can not be ascertained without references). If you do not bring references, it will greatly affect your craftsmanship score.
5. If you show up late to or miss your Craftsmanship judging session, you will not be judged for craftsmanship unless there is another open time slot available. Please show up at least 5 minutes early and be ready to go in full costume for your judging session to avoid disqualification. Groups of 3 or more people will need to sign up for 2 time slots to allow for adequate judging time. Groups of 8 or more will need to sign up for 3 time slots.
6. All costumes and props must be made by at least one member of the group to qualify for craftsmanship judging. Purchased, rented, borrowed or commissioned costume sets are still eligible for performance awards but are not eligible for craftsmanship awards. Found, salvaged or heavily altered costumes and props can still be eligible for craftsmanship judging.
Things to Remember
1. Pierre and Josh are in charge of the Masquerade. Their word is law and final. Do not try to make the Masquerade staff's job harder than it already is, and follow any instructions without fail. They will not make any unreasonable demands. Their #1 priority is to ensure the safety of the entrants and that the Masquerade performs as smoothly as possible.
2. The judges are immune to your wiles and attempts of bribery, and the MC has a microphone and is louder than you. Any attempts at heckling or bribery will be met with swift retribution and a look of foolishness on your part (And quite possible a hearty chuckle and finger pointing at your shenanigans).
3. These rules are subject to change at any time without prior notice. We will make every effort to inform you, the public, of any changes as far in advance as possible. The Head of Masquerade, and a select few officers of Katsucon have the right to reject any skit that they feel crosses the boundaries of good taste and decency, is in blatant violation of any of these rules, or might be out of place. (Don't karaoke in the Masquerade, do it Friday night at the karaoke event!)
4. And keeping all these rules in mind, remember, the most important rule: Have fun!