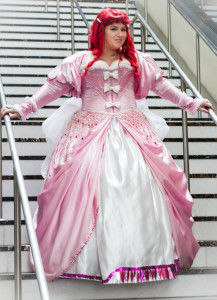 Important Pre-Registration Guidelines
Due to the timeframe of the event and to give everyone an equal amount of time to do their presentations during the event, we have a limited number of available openings for onstage competition. We will accept online submissions until all available openings have been filled. Once we have confirmed the online submissions, we will open up any remaining slots at the convention to "walk in" contestants. (if there are any available). If you receive a confirmation email for your registration, and you (or your group) can not participate for whatever reason, please contact the Masquerade Team as soon as possible. The online form to submit your registration will be located in the Registration Process section along with some additional information.
The Masquerade contest check in will take place on Friday. Time and location will be announced later. The Masquerade Team will be available to check in confirmed contestants (entrants that have received email confirmations of confirmed online submissions and approval of their script), answer questions about the Masquerade event itself and get more information about participating in the rehearsal (including what time rehearsal will start, walk ins, how rehearsals will be handled and a review of the guidelines for onstage performances).
The onstage Masquerade contest will have a run-through rehearsal that all approved contestants are required to attend. During this process, you will be allowed to practice your submitted skit while our team reviews the onstage performance for approval for the Masquerade event. In order to allow everyone an opportunity to rehearse their skits onstage successfully and completely, we would like to ask that all contestants arrive at the time indicated during the check-in process. All skits and rehearsal performances must be reviewed and approved by the Masquerade Team before being allowed in the Masquerade Event.
When signing up for Craftsmanship Judging time slots at the Cosplay Check-In or Rehearsal, Groups of 3 or more people will need to sign up for 2 time slots to allow for adequate judging time. Groups of 8 or more will need to sign up for 3 time slots.
Review these links of more information:
Rehearsal and Performance Rules
Costume and Division Rules
Registration Process
FAQ's (Frequently Asked Questions)

For any questions, please contact cosplay@katsucon.org.