We are excited to share the floorplan and details of Katsucon 2017 Merchants Hall. This year's convention will offer attendees a wondrous and diverse variety of exhibitors offering an impressive array of the best merchandise, personalities, & services that we've ever seen gathered together in one place.
Merchants Hall hours for attendees are:
Friday 12 pm – 8 pm
Saturday 10 am – 8 pm
Sunday 9:30 am – 1:30 pm
**Attendees with VIP badges will be permitted entry 30 minutes before the posted time each day.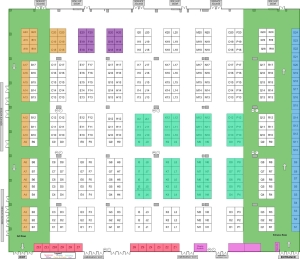 A note to vendors – Pre-registration is now officially closed and all booths are sold out.  If your business would be interested in being notified in the event of an unexpected cancellation, please click here to submit your information.
Katsucon's Merchants staff evaluates potential new vendors, not by the order on the list, but with an eye to diversity in order to provide an optimum experience for vendors and attendees alike. It is extremely helpful to provide a comprehensive, accurate description of all merchandise you'd like to offer. A link to a current website or page showing your work is a must. You may also include or email reference photos of your booth at other conventions, if desired.
Please click the tabs above to view a list of confirmed vendors, plus Katsucon's 2017 exhibitors packet which will provide more details about Katsucon's Merchants Hall.

Existing vendors who have already completed registration and online payment will be receiving information regarding location and loading details by December 31. If you requested an additional space and have not yet heard from us, please drop us a note. Should you have any other questions in the meantime, please don't hesitate to reach out to the Merchants Team via their contact page.